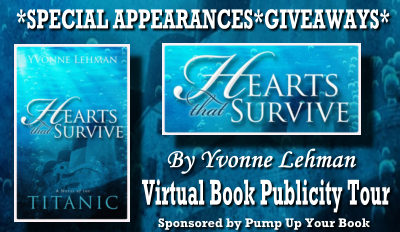 The 100th anniversary of the
Titanic
's tragic sinking is very close, and this is the second
Titanic novel
I've read this year. Today I'm reviewing
Hearts that Survive
for a Pump Up Your Book! blog tour. If you'd like to check out the other stops on the tour, click the banner above. But wait until you read my review first, okay?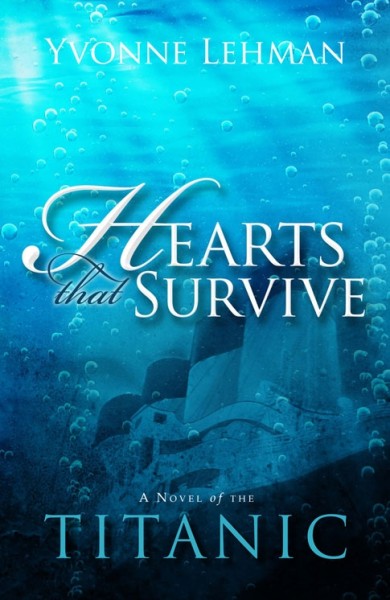 Hearts that Survive
Yvonne Lehman
Abingdon, 2012
Lydia Beaumont had it all: wealth, status, the company of a handsome and successful gentleman, the not-so-secret-love of an up-and-coming and kind young man, and a suite on the greatest of all ships' maiden voyage. With both gentlemen. And a secret that would change her life forever. This secret prompts Lydia and John Ancell - the young visionary behind Ancell (Toy) Trains - to plan a quick wedding aboard the
Titanic
. It's a perfect plan: a wealthy railroad heiress, wearing a brand new wedding dress from a renowned fashion designer, on the maiden voyage of the Ship of Dreams. And it is a perfect, beautiful wedding - the night of April 14th. But things take a shocking turn in the night hours following the reception, and history of a very different kind is made. Lydia escapes, as does her new friend Catherine, and Craven Dowd - the manager of her father's business, and her 'second suitor.' John stays on the
Titanic
.
What follows is a story that is poignant and very human. As they struggle to orient themselves in their new reality, Lydia and her friends must come to terms with who they are and what life means. And love - the thread that connects all the mismatched pieces of life is love. Always love. Even in the face of such wrenching tragedy, life goes on. Lydia marries Craven and finds herself in a fulfilling and, eventually, happy life. Catherine and her maid Bess travel north, to Nova Scotia, finding a place to call home, hearts to love, and the peace that passes all understanding. The survivors keep living, and have children who have children. And all the stories, from the ship and beyond, slowly come circling back together in a way that creates a beautiful story - and also reflects the intricate weave of life. When all the secrets are revealed at last, and lives are rattled on their foundations, the Love present in those foundations is strong enough to let life continue.
I don't want to give out too many details, while some of the secrets are revealed right away, others are a little more layered. Maybe less secrets and more tiny details that click into place.
Hearts that Survive
is an excellent exercise in creating a story that involves many separate stories gathered in one neat arc. With so many separate stories, there are a lot of perspective/point of view changes -- though most of them occur at chapter breaks, and it's normally easy to pick up and bounce between to the two main stories of Lydia and Catherine. Having read
Promise Me This
, earlier this year, I was better prepared for the emotional impact of reading a story where you know hundreds of people are going to die. And Lehman works in some beautiful historical details, with special attention to clothing and jewels, which my girlie-girl heart loved. All in all, despite the sad beginning,
Hearts that Survive
is a story of Hope, and of Love.
Book provided by publisher for review
.