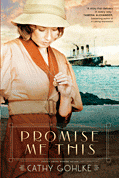 Promise Me This
Cathy Gohlke
Tyndale, 2012
When I saw this available for review from Tyndale, I was intrigued. I haven't read much historical fiction about the
Titanic
, but with the anniversary approaching, I decided to give it a go.
Promise Me This
quickly swept me into the story, and didn't let me go.
I'm going to be very careful with this review, because there is something to be gained from going into this reading without knowing all the details. (Or maybe I just want everyone to experience the '
What on earth?!
' feeling I had when I got to a certain part.) The main characters are Annie Hall and Michael Dunnagan. Annie comes from a distinguished and wealthy - though somewhat haunted - London family. Michael is an Irish orphan, fighting for survival on the streets and docks. The link between the two is Owen - Annie's big brother, who takes Michael under his wing, quite literally giving him new life.
Owen sets sail on the
Titanic
, discovering Michael stowed away a few days into the voyage. Realizing God had some purpose for the boy reappearing in his life this way, Owen begins to teach Michael everything he knows about gardens and plants - preparing him for a new start in America, and adopting him as a brother. But the
Titanic
has a date with an iceberg, and Owen never makes it to New Jersey, though he makes sure Michael does. And Michael vows to do all he can to bring Annie safely to America too, fulfilling Owen's promises and goals. Annie however, is less inclined to go along with this plan, finding it hard to forgive Michael for living when she is forced to lose so much. So begins a long, painful journey of healing and reconciliation - and the all-powerful force of Love.
Annie and Michael each struggle with their own demons, eventually learning that the only way forward is to embrace the life they're given and the people who love them. They become friends, then more - and plans are set in place for Annie to join Michael and her aunt in New Jersey. When World War I breaks out, those plans are halted, and a new chapter in Annie and Michael's story begins. Annie's letters stop abruptly one day, and she seems to disappear into thin air. Michael returns to England, then goes on to the front lines in France, to find her. What follows is a story that breaks your heart and makes you smile all at once.
I loved this book, but at least once I was sorely tempted to throw it at the wall and scream. Gohlke does a masterful job of creating characters that I can relate to and cheer for, and then
wham!
, out of nowhere a story twist comes that - seriously - made me want to shriek. But I kept reading! And man, the reward was worth the momentary frustration. So take heart, readers! Keep reading, and you'll be happy again! I promise you this. It's an emotional read - having not read any
Titanic
fiction, the scenes surrounding the sinking and aftermath were intense. I am a fan of WWI stories, so was more prepared for that emotional rollercoaster.
Promise Me This
is a exceptional piece of historical fiction I think: it has the historical details to make it feel real, but it's not overly 'historical' - there is a lot of emphasis placed on the characters, on Annie and Michael, but also the secondary/supporting cast. It's like visiting with people from the past, and experiencing their experiences. On the whole, very glad I read it.
Book provided by publisher for review
.
For more information about
Promise Me This
, check out:
Cathy's site
http://www.cathygohlke.com
Tyndale
Tyndale.com
The full
blog tour schedule