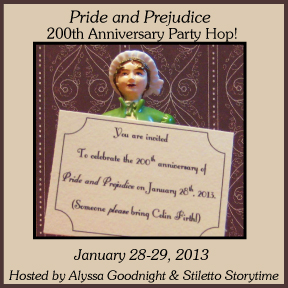 Today is a very important day. It's the bicentennial of the greatest love story of all time. To celebrate, Alyssa Goodnight and Stiletto Storytime are cohosting a blog hop of fan letters. Swing by and check out the full list, but first give mine a read.
Dearest Jane,
My Dear Miss Austen,
My dear Jane,
Please allow me the impertinence of considering you a close, and intimate friend. I have read your words so often, I feel as if we've experienced all the joys and sorrows of life together. You've cheered me, you've consoled me, you've made me laugh and taught me that not all disagreeable gentlemen are, in fact, disagreeable. And so, on this wonderful, glorious day - the 200th birthday of Pride and Prejudice - I beg the indulgence of telling you my Jane story ...
... I met you as a wide-eyed sixteen year old, whose English professor handed over the 6-part BBC miniseries of Pride and Prejudice. You know, the infamous "Wet Darcy" version. After being mesmerized by the story playing out on screen, I read the book. And then I stumbled across Sense and Sensibility. And then there was a gap of a few Jane-less years, until the Kiera Knightley Pride and Prejudice released, which reignited my interest. Mr Darcy walked back into my life when I needed him most, and escorted me into a world of manners and elegance. Not to mention very dashing heroes.
As the years rolled by, it's now eleven since that first encounter, I've read your novels. I've read the spinoffs and variations and paraliterature. I've seen the movies. I have quite an "Austenia collection" of my own, both book and video. I've met amazing people, and come to know myself better by visiting a more graceful time. Jane, looking back over the years, I'm not sure how I would have traversed them without your gentle humor and searingly beautiful stories.
To that end, dearest Jane, I thank you. For bucking tradition and fighting the norms, for writing. For letting your observations of human nature be distilled into such clarity, and creating heroes (and heroines) who give hope and courage. (And perchance a little romance).
Happy anniversary, Jane Austen, and a million thanks for Darcy and Elizabeth, Jane and Bingley, even Mr Collins and Lady Catherine! I raise a mug of cocoa in your honor, and snuggle in for a winter's night spent time-traveling through Regency England.
With much love,
Sincerely me