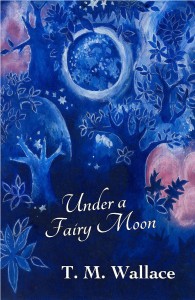 Under a Fairy Moon
TM Wallace
Brownridge, 2011
Many thanks to
Pump Up Your Book!
for letting me join the blog tour for this new novel! Not only is the cover beautiful, but the story is engrossing and unpredictable.
Under a Fairy Moon
is a YA fantasy that doesn't quite go where you think it will, but the adventure is all the better for the unexpectedness.
It all starts because Addy has one very active imagination, and she uses it to escape the uncertainty and awkwardness of her 'real world.' Her stand-offish neighbor has a mysterious, and fairly secretive, garden that Addy has claimed as her own wonderland. But it's not just any garden, there's a darker mystery to it - but not wholly dark. Together with Connor - the boy she follows into the garden one morning, trying to keep him from 'stealing' her territory - Addy discovers that there is far more to the garden than even her imagination conjured. The two find themselves embroiled in a game of 'Fairy Chess' - an elaborate and grueling "game" that tests their weaknesses and strengths, forcing them to look deep inside and come to terms with who they really are, in their heart of hearts. Along the way, they meet countless mythic and otherworldly creatures, making friends and enemies, and learning that this is no ordinary game. The stakes are high - for both the Summerland and their world.
Under a Fairy Moon
is a complex story that can be read at a surface-level as an enjoyable and attention-keeping fantasy adventure. You could also look at as a story with a deeper meaning as well - as much as I dislike the whole "what is
not
being said
while really being said
" aspect of reading and literature, I couldn't help but find myself making parallels while reading: this could very easily be used as an example of the ongoing and ever-present good-versus-evil battle. My brain was getting annoyingly in the way whispering about how things could be interpreted, how this character or that idea could translate into a bigger picture/point than initial reading. I try really hard not to indulge in those trains of thought (unless the author has clearly indicated some such, and then I view it as a treasure-hunting challenge!), but it was a strong sensation, so I mention it. Overall, the story was fast-paced and very, very involving. Lots of twists and turns, and I never knew what was going to happen next.
Make sure you visit the main page (click the banner) to see the other stops along the blogtour!
Book provided by publicist for review
.