Today, I'm happy to host my first blog tour stop of 2013! Tyndale House is promoting a wonderful new release -
All for a Song
- and I'm pleased to provide a review of the book and a little Q&A with author Allison Pittman. Enjoy!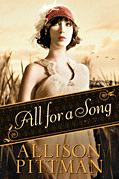 All for a Song
Allison Pittman
Tyndale House, 2013
All for a Song
is a story told on two levels: it opens with the 107th birthday of "Miss Lynnie", in a nursing home, and the story of her day and experience is interspersed throughout the novel, weaving in and out of Miss Lynnie's past. The life of Dorothy Lynn, a young woman coming of age in the 1920s, comprises the majority of the novel, and what a story it is. Dorothy is a preacher's daughter, destined to marry her late father's replacement, and settle in "for keeps" in her quiet hometown of Heron's Nest. But Dorothy has a secret yearning, an itch, a bit of wanderlust -- and when a chance encounter with handsome Ronald Lundi, manager of Aimee Semple McPherson's crusade, offers her the chance to scratch that itch and spread her wings, she takes flight.
Traveling with Sister Aimee and her crusading caravan, Dorothy is exposed to whole new ways of life, both in terms of 'secular' and religious experiences. As she struggles to reconcile her new experiences - and desires - with her background and beliefs, Dorothy stretches and grows. And discovers that what she really wants in life has been right in front of her all along. The cross-country, boundary-stretching journey just helped clarify her vision. So how does the story of Dorothy Lynn interweave with that of Miss Lynnie? Better than you'd expect, and together they form a beautifully complete portrait of growing up, living life, and discovering all the "Love" really means. To think, a whole life shaped and molded, for a song.
Rich - but not overwhelming - in historical detail,
All for a Song
is both the story of one young woman, and a glimpse of a part of church history I was unfamiliar with. Seeing the struggle to balance culture and society with an expanding sense of Christianity was a read that I think will also resonate with today's environment. Beautifully written, and featuring a cast of colorful characters,
All for a Song
is a must-read.
Book provided by publisher for review
.
And now for a little Q&A with Allison!
Tell me about your main character Dorothy Lynn. Was her character based upon anyone in particular?
The young Dorothy Lynn, no, not really—not beyond any other singer/songwriter out there. She's a young woman with a message and a voice, so maybe she's a mash-up of every musician I know. The older Dorothy Lynn, Miss Lynnie, is somewhat based on the mother of a friend of mine. His mother went to be with the Lord while I was in the final stages of writing this novel, and at her funeral, I learned that she had a stroke years before her passing, during which she had a glimpse of Heaven, and had spent her intervening years longing to return. I remember going home from that celebration of her life and re-writing just about every Breath of Angels scene, incorporating that into Dorothy Lynn's story. It was exactly what the story needed, and brought about a depth I couldn't have imagined in the initial draft.
Although this novel is set in the 1920s, how does Dorothy Lynn's story still resonate today?
The world today wants nothing more than to entice young women to exploit themselves in some way, and the enemy wants nothing more than to make us think that we are beyond redemption. We all make stupid, thoughtless, reckless decisions; we all get ourselves into such unbelievably embarrassing messes; we all disappoint our loved ones. The world tells you to move on; God tells you to go back.
As a writer, what did you particularly enjoy about crafting this story?
Oh, my goodness. As a historical writer, I loved the time period—that sort of new, innocent fumbling with innovations of the time. One of my favorite scenes was when the 107-year-old Dorothy Lynn experiences her first iPad. (By the way, I had to make her that old in order to make all the history "fit." I spent every day for a month watching the Willard Scott segment on the Today show making sure that her age would be believable. Wouldn't you know? Every week there's somebody that tops the 105th birthday!)
How has this novel helped you to grow as a storyteller?
My tendency (a very purposeful one) is to leave my stories with a bit of an "unfinished" edge. I like my characters to leave the page on the cusp of fulfillment, so that my readers can have the pleasure of imagining those final, satisfying moments. A good friend (and, coincidentally a fan) of mine said, "I love your books. I hate your endings. I'm just going to have to accept that this is what an Allison Pittman story does." So—how fun was this to write the most definitive ending, ever! To open a story on the last day of a character's life—so totally new for me.